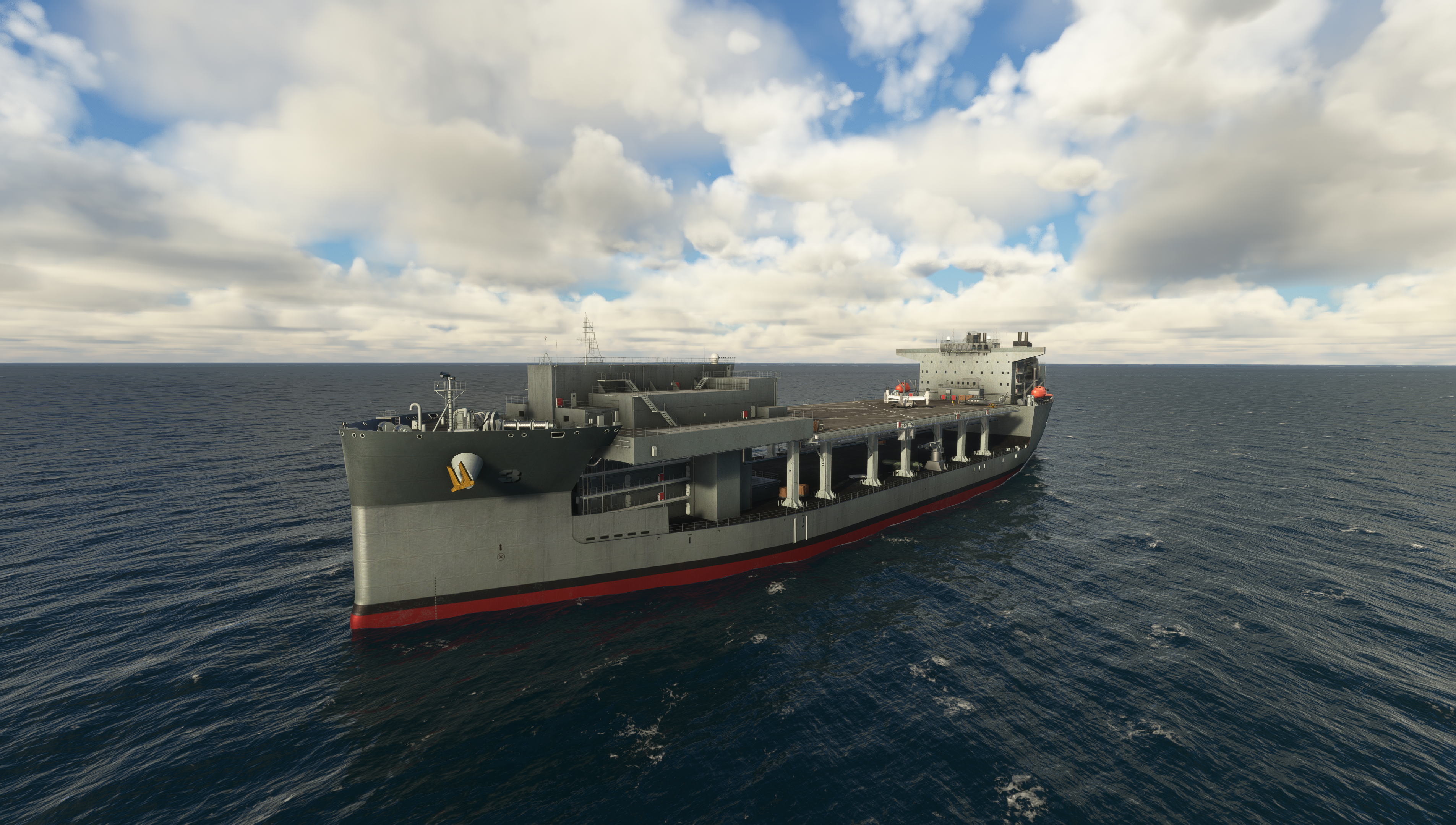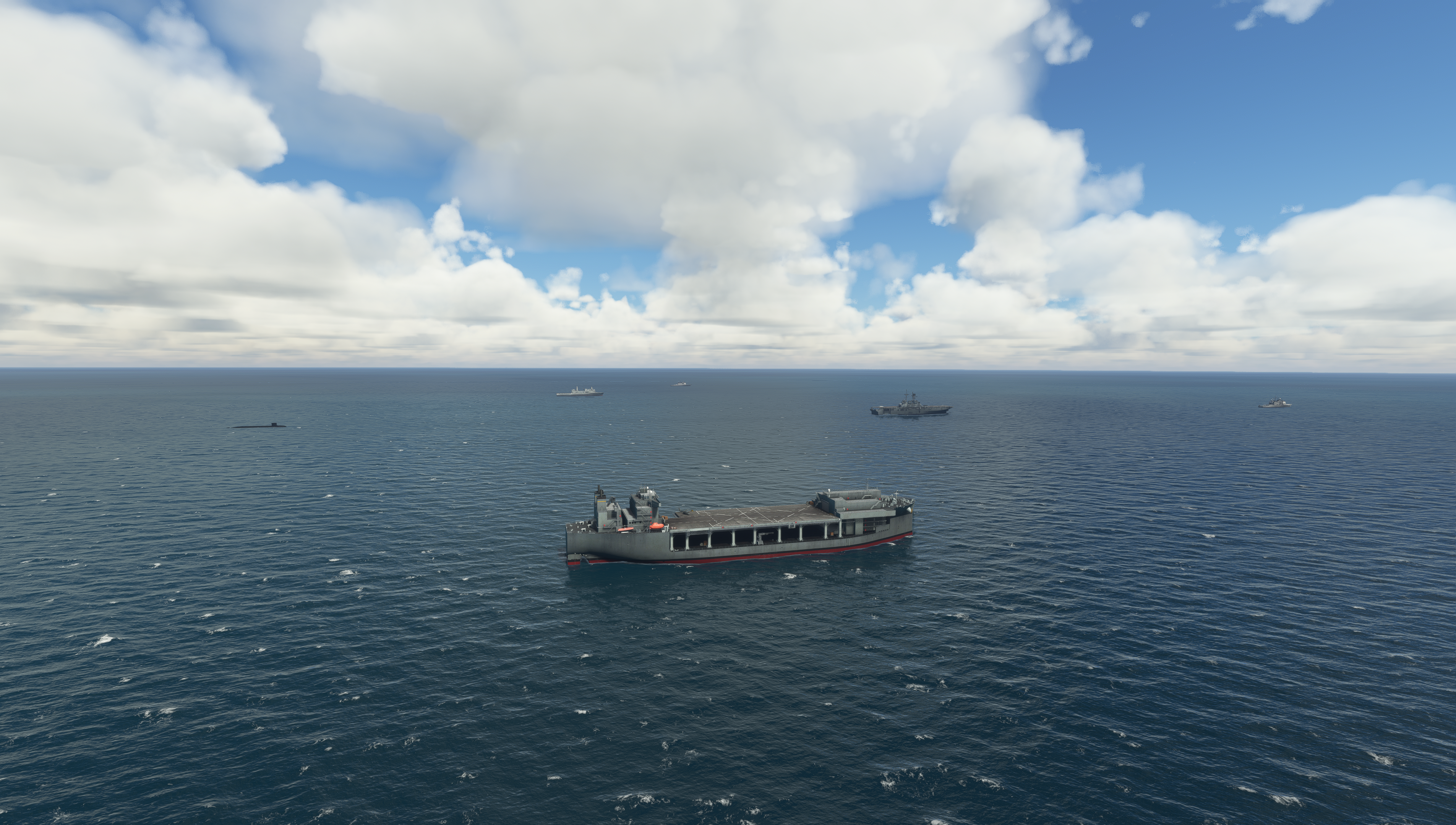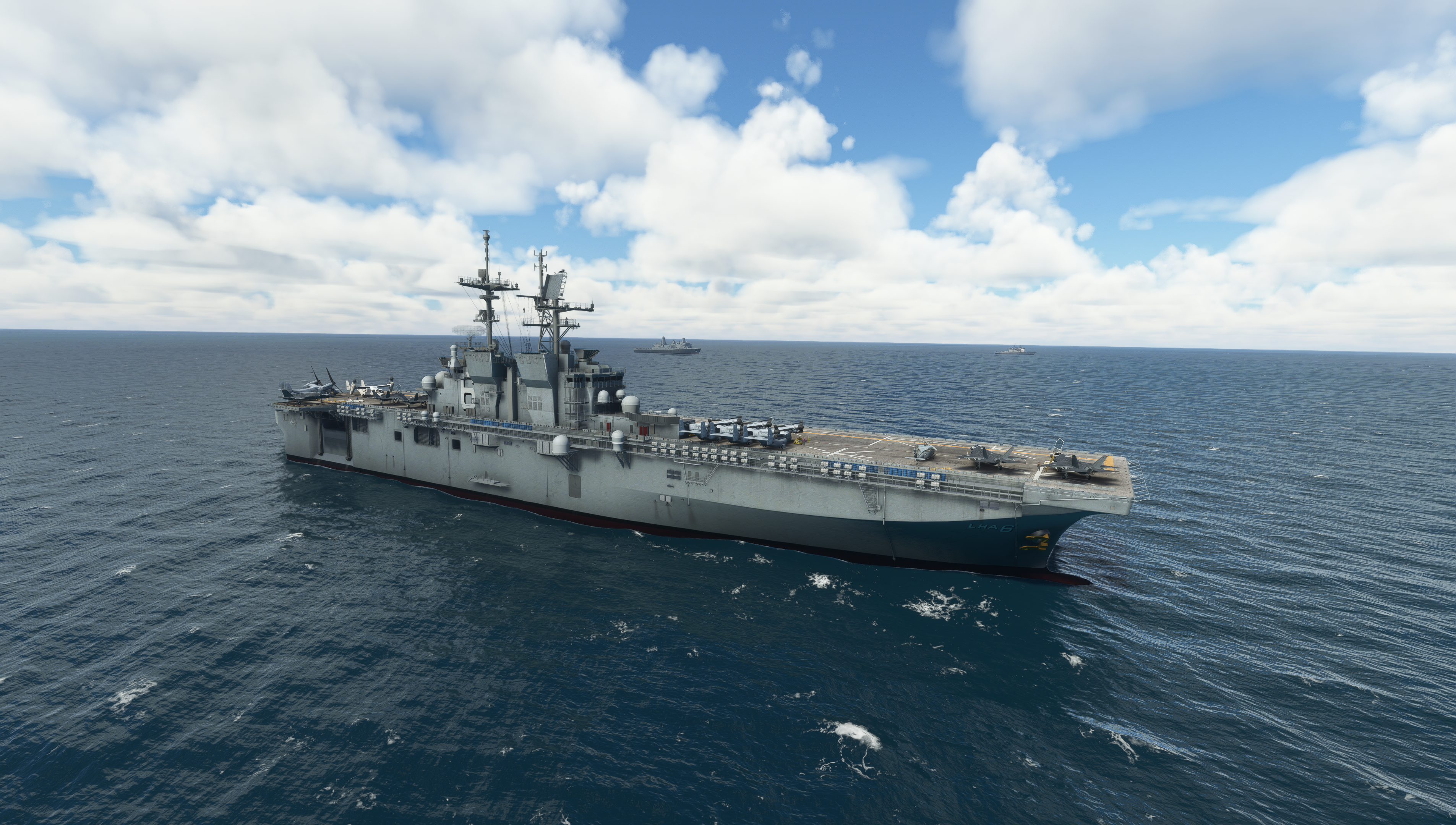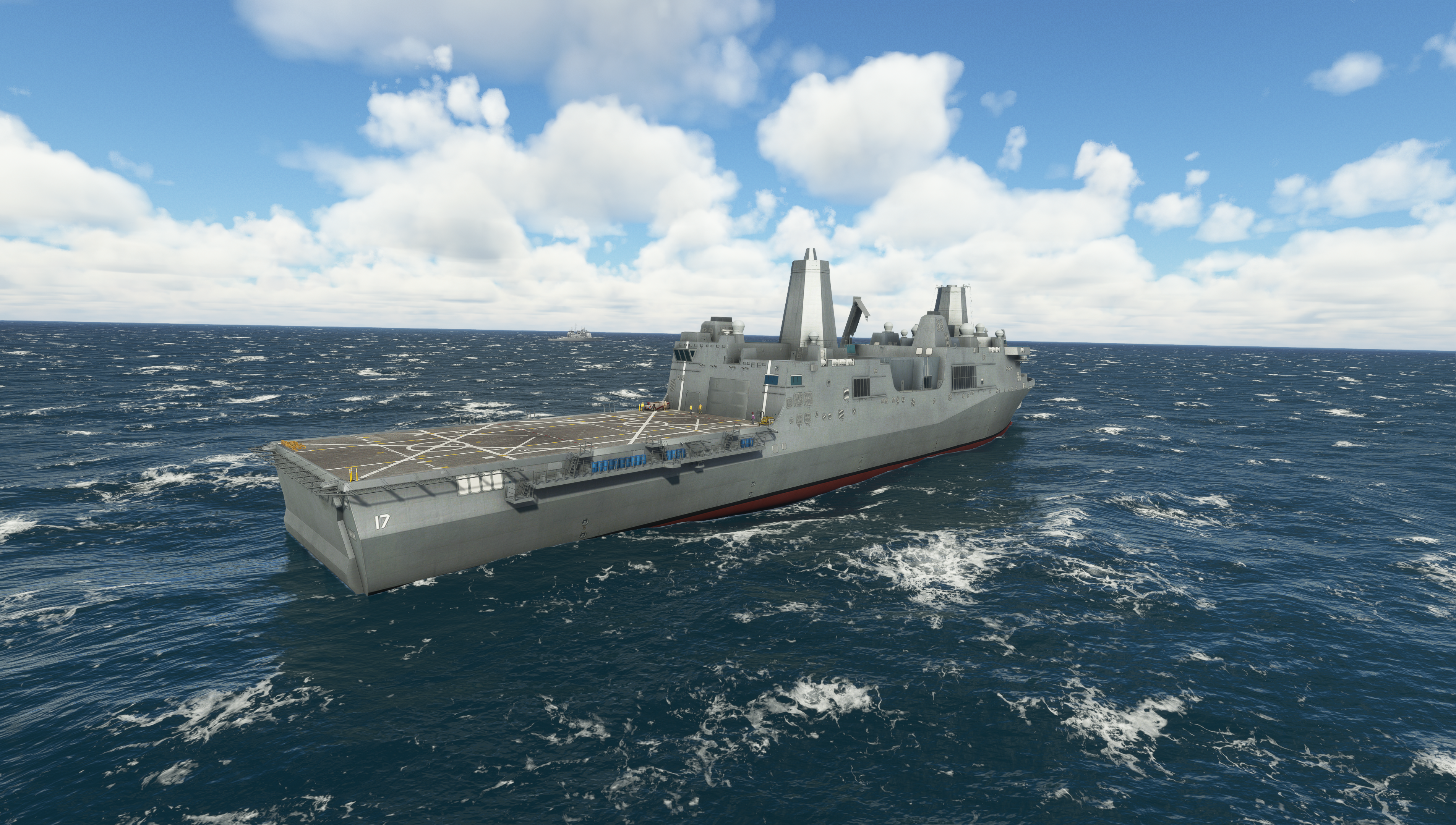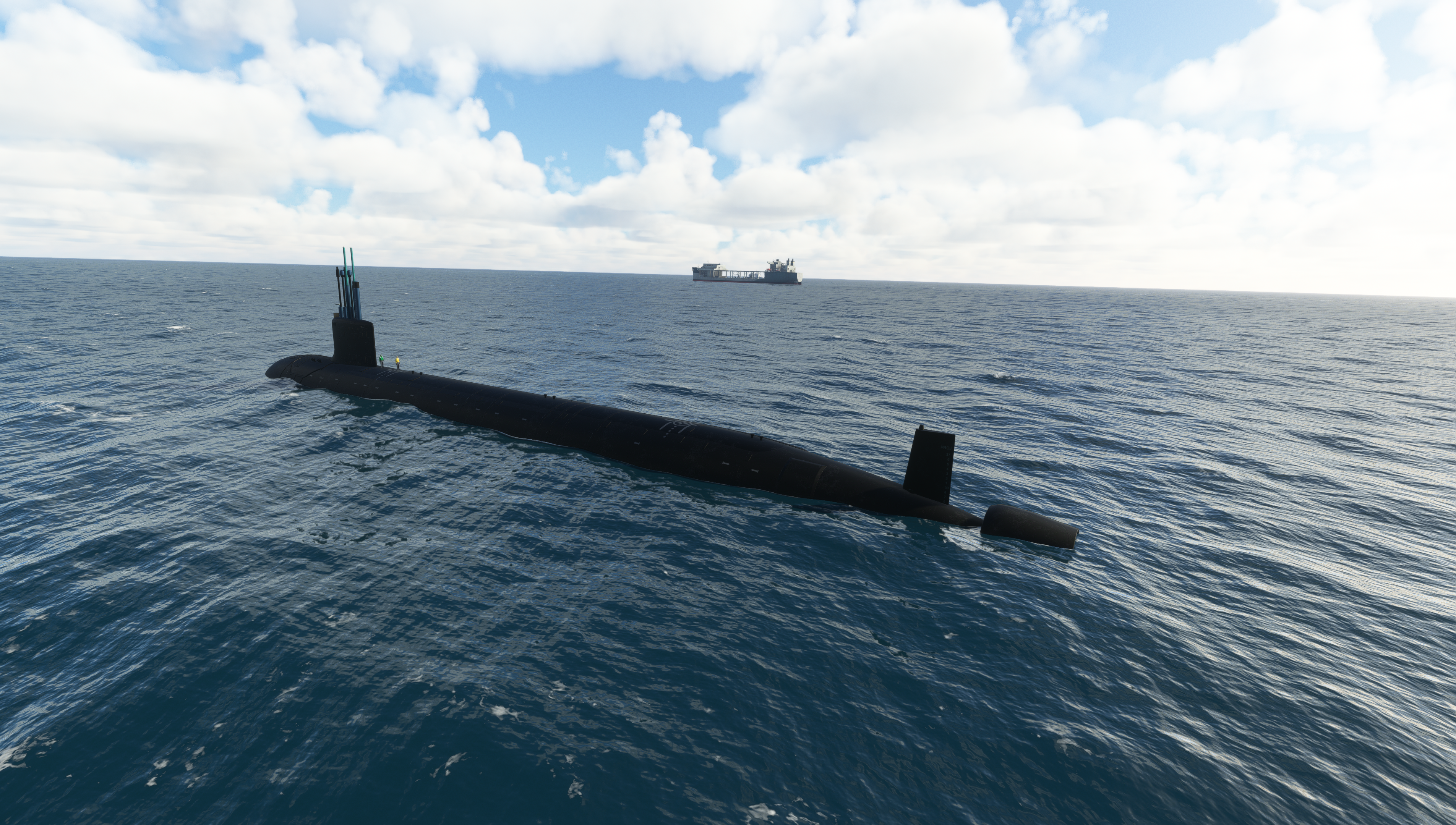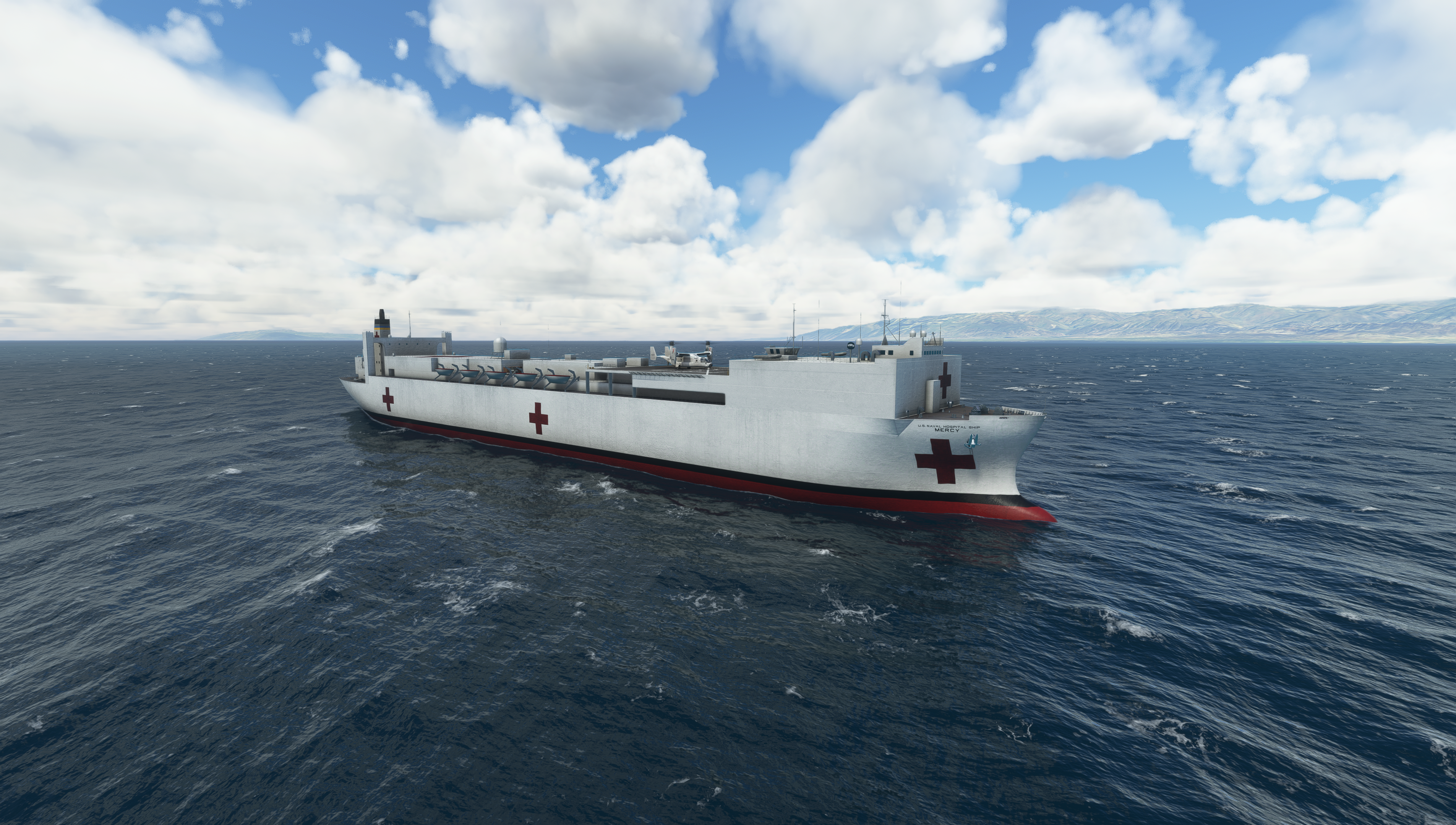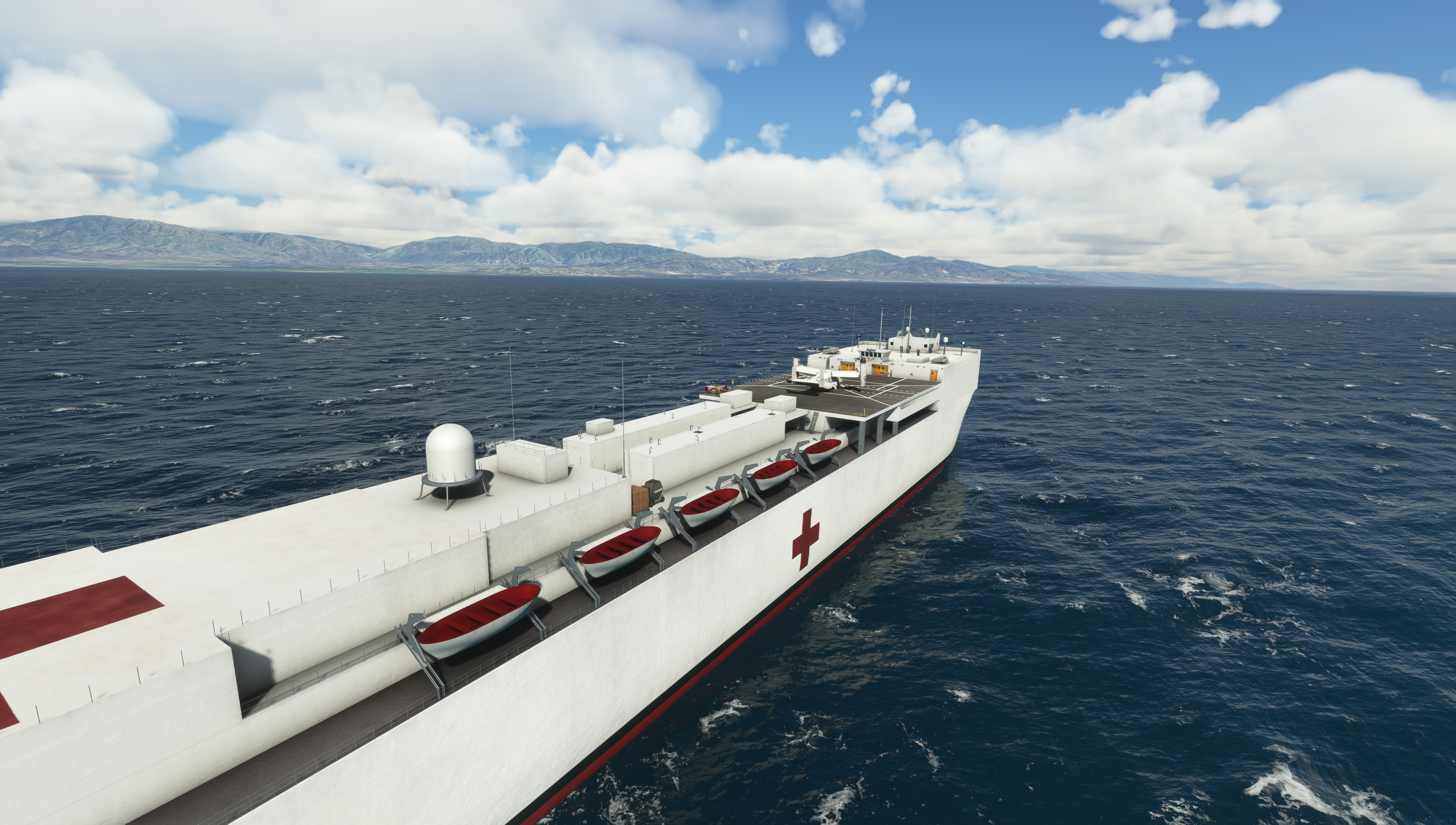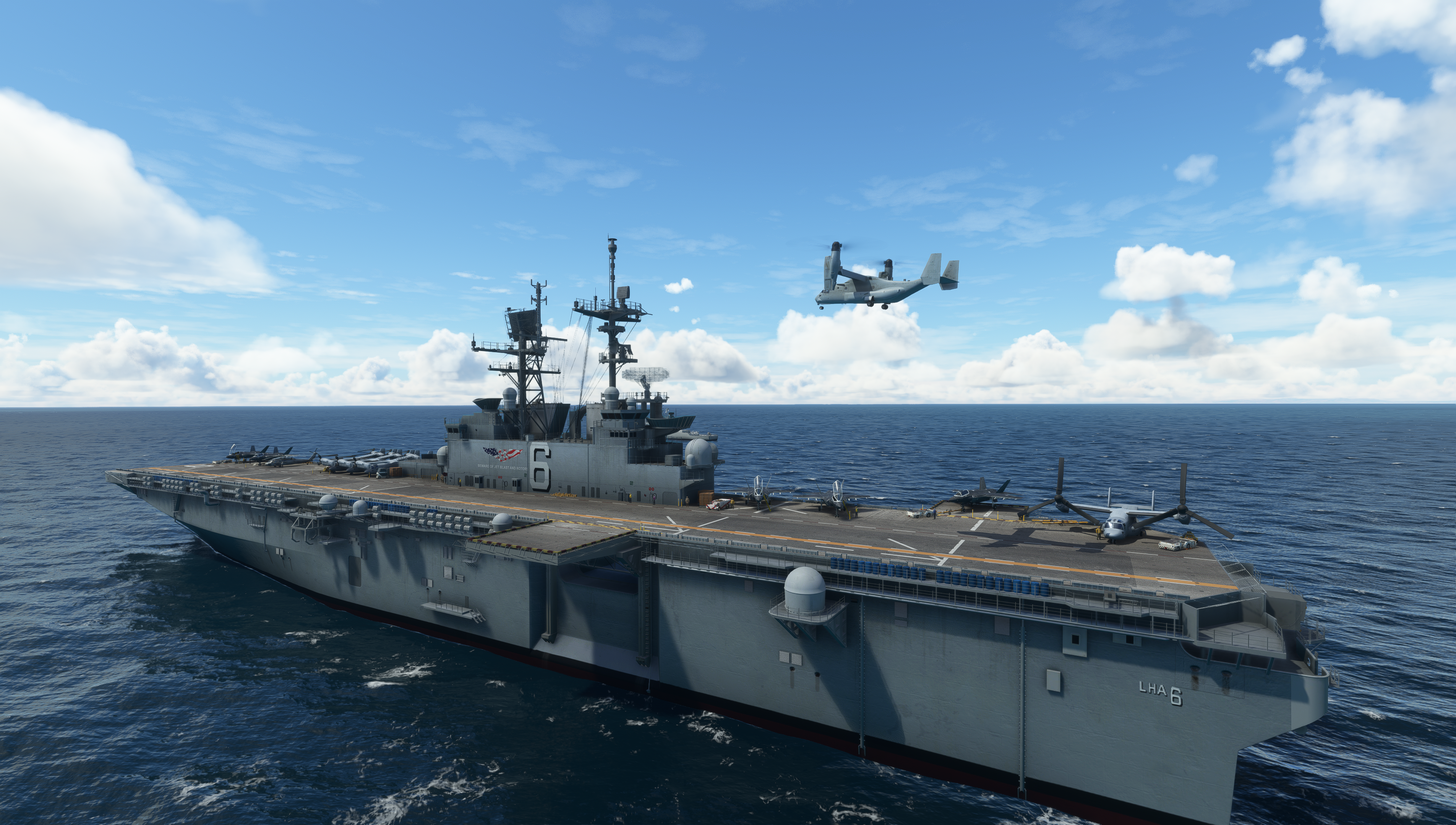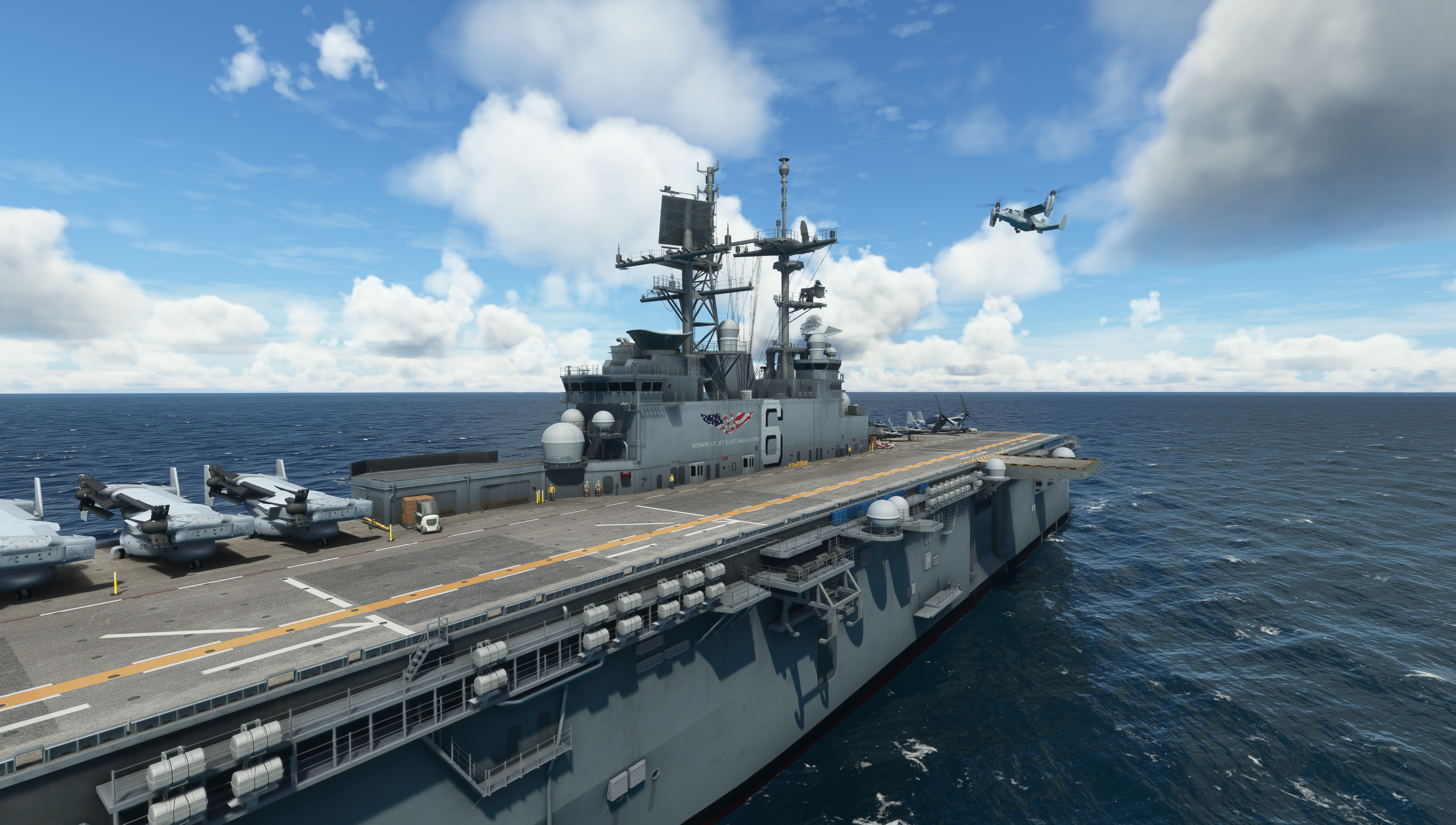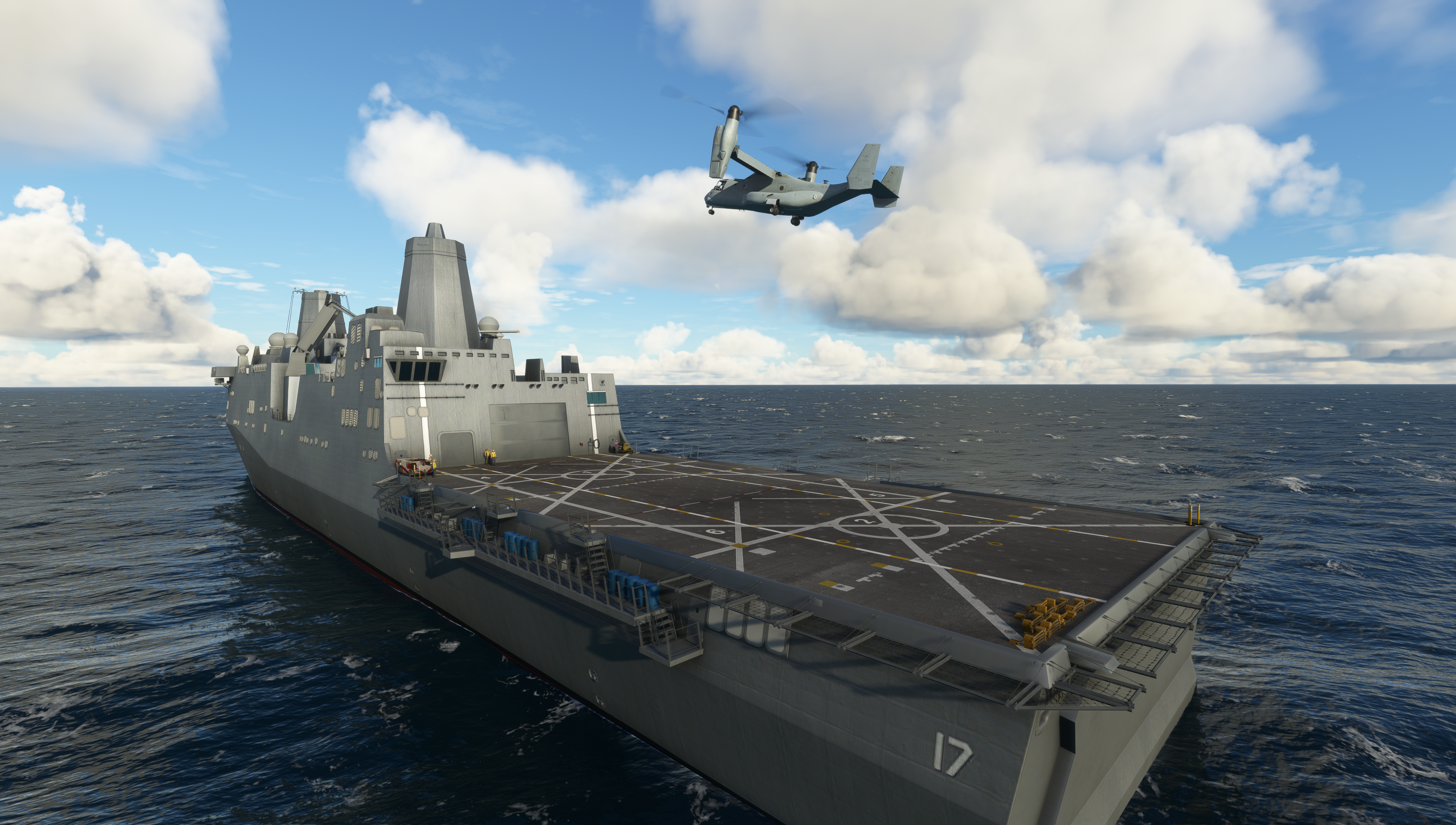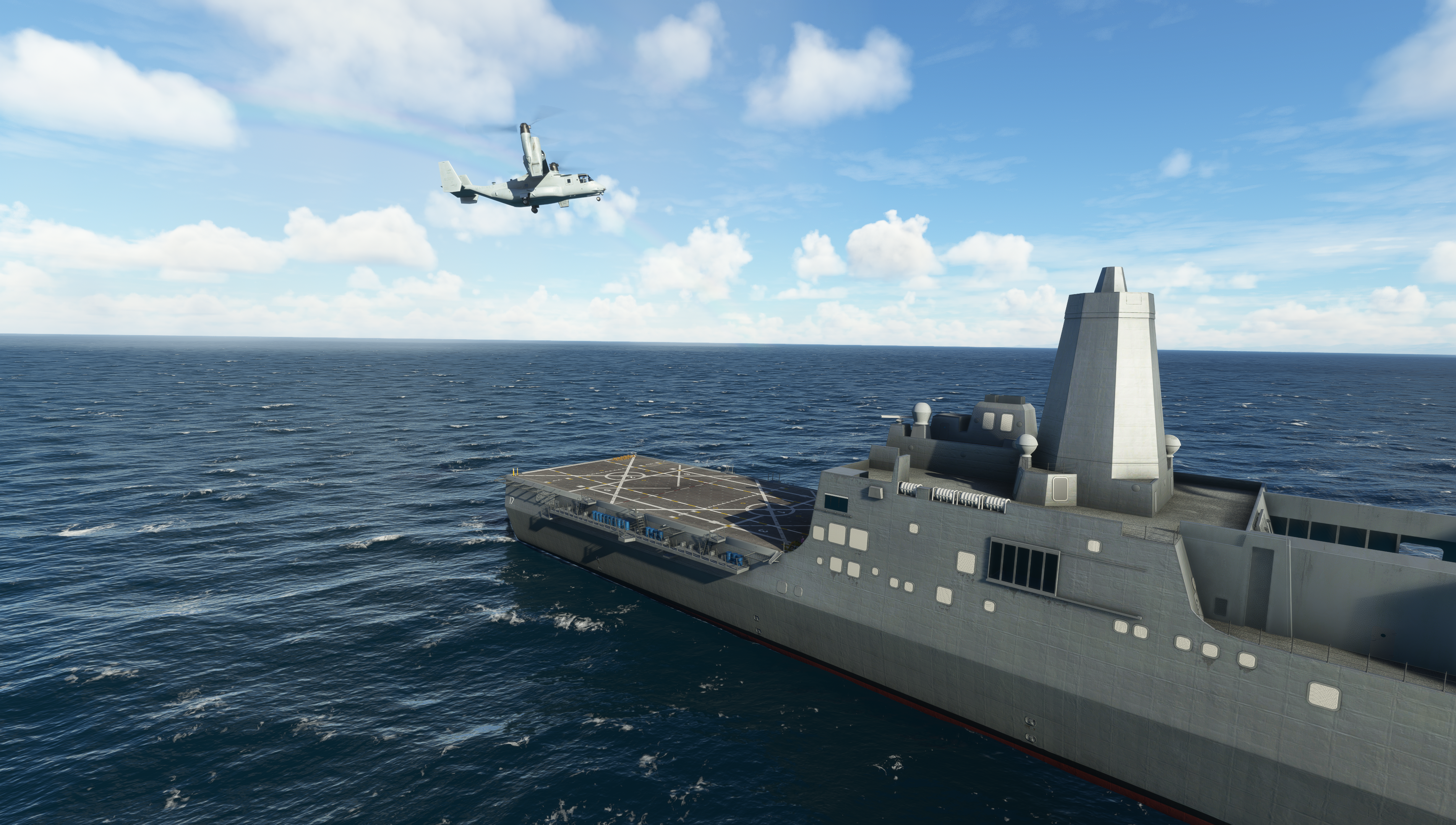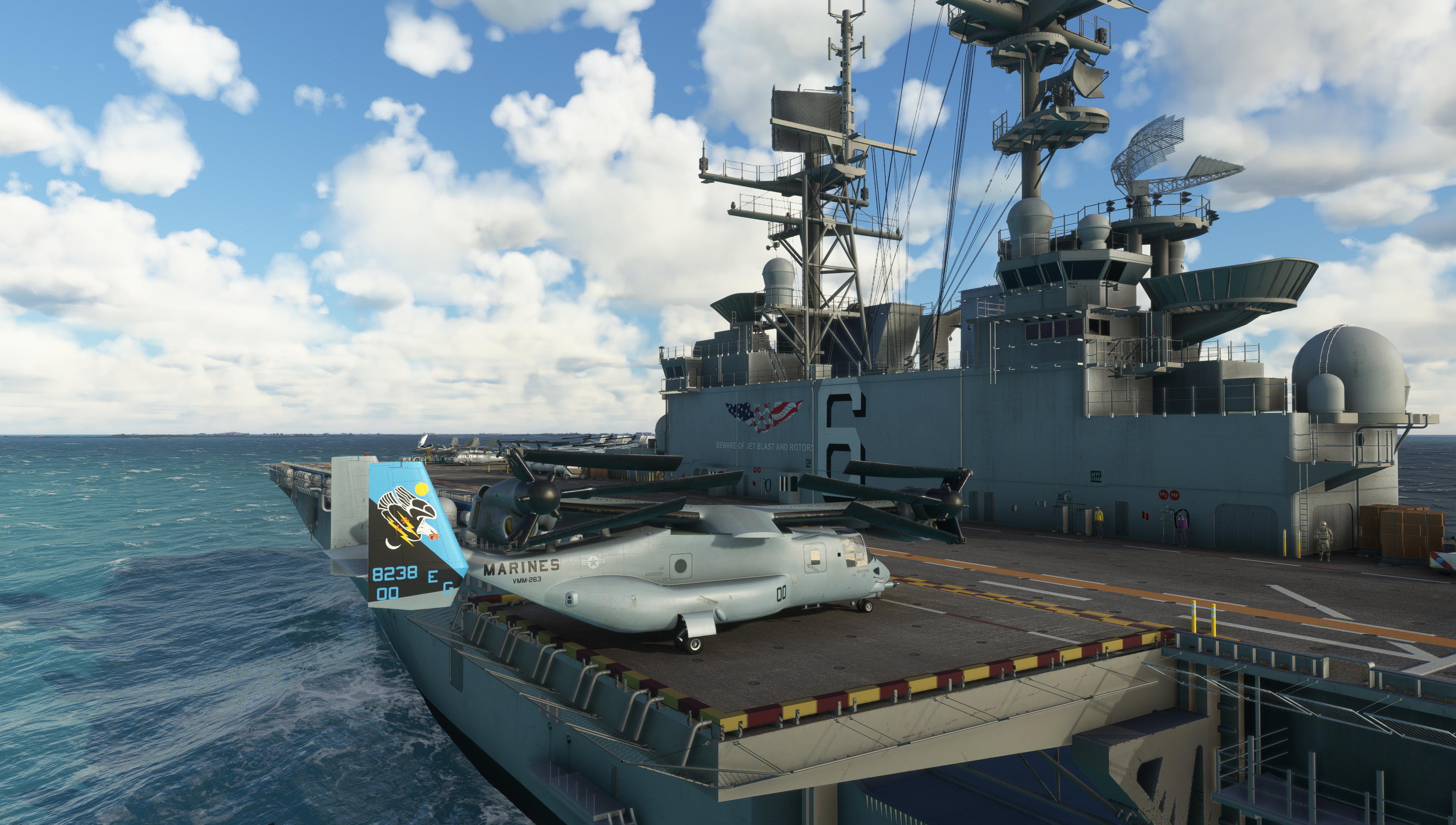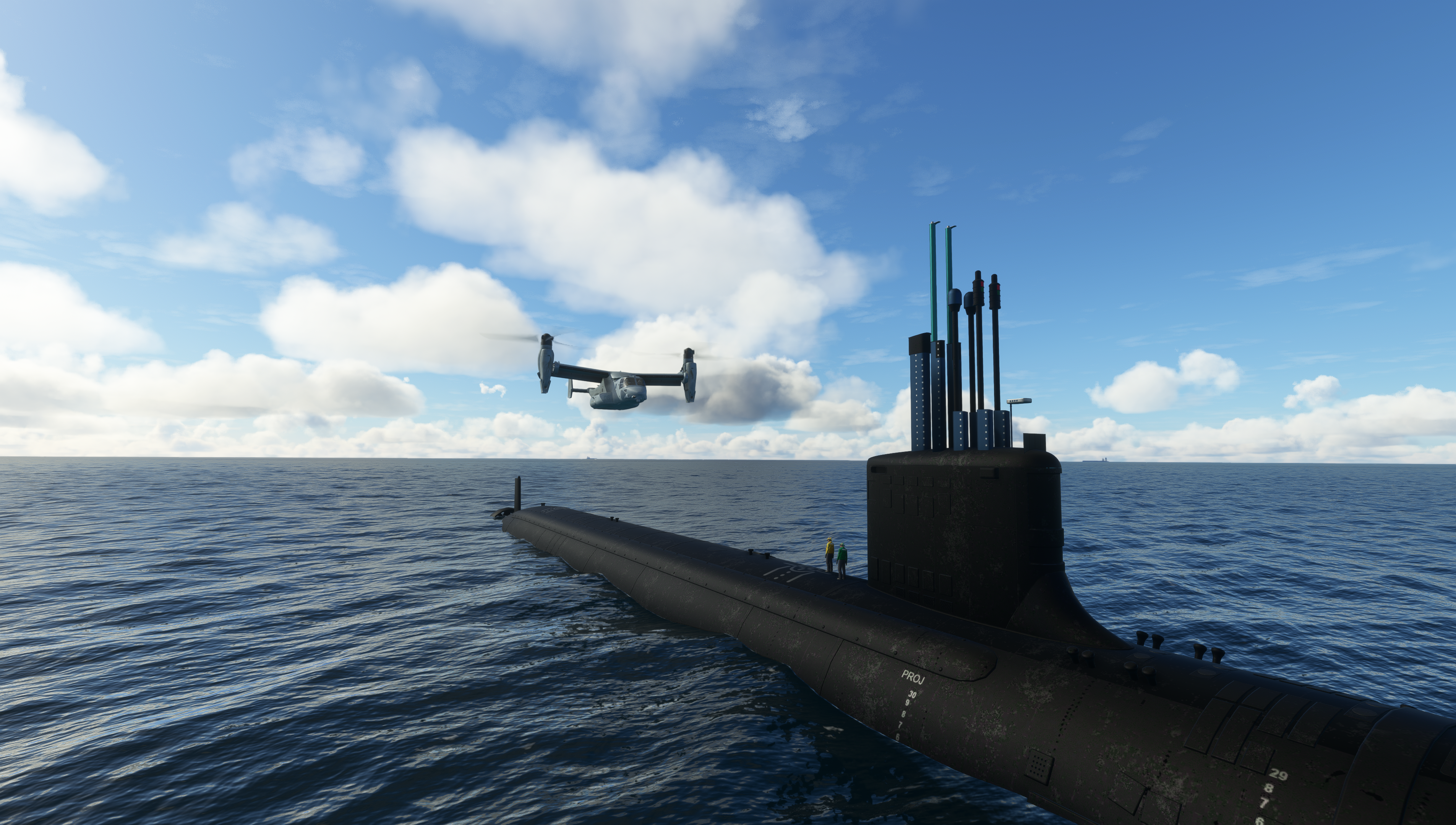 Amphibious Ready Group for MSFS
---
Note: At Miltech Simulations, we are committed to no upgrade fees on all products from MSFS2020 to MSFS2024. Any products bought now or in the past will be available to use in MSFS2024 at no additional cost.
An Amphibious Ready Group of the United States Navy consists of a naval element - group of Warships, and a landing force – fleet of aircraft. Together, these elements and supporting units are trained, organized and equipped to perform amphibious operations, such as offensive coastal landings, but have been used in the past for humanitarian, MedVac and transport missions.
Amphibious Ready Groups consist of one Landing Helicopter Assault (LHA), a Landing Platform Dock (LPD) and supporting vessels, such as LSDs and Frigates. These typically carry MV-22B Ospreys, F-35Bs, AV8Bs and attack/transport helicopters.
Worldwide, there are normally at least three ARGs deployed at all times, typically one in the Mediterranean Sea, and two in the Western Pacific. Under a slightly different configuration, which may include cruisers, destroyers and submarines, the Amphibious Ready Group then becomes an Expeditionary Strike Group.
Ships and Hard Decks
This product includes both STATIC AND MOVING SHIPS. All STATIC locations of the USS America are spawnable, and feature both a "Runway" (Ready to Fly) as well as a "Parking" (Cold and Dark Start) position. All other ships feature Hard Decks, which can be landed on, but are not spawnable. All ships are easily identifiable on the World Map with POIs.
Features:
Start your flights at the deck of USS America from any of the 22 locations around the globe.
Simulate Amphibious Deployments, Marine Expeditionary Missions and Carrier Onboard Deliveries to and from USS America, USS San Antonio and USS Lewis B. Puller
Locate, hover and deliver supplies to USS Virginia submarine on Special Operations with the Miltech Simulations Osprey MV-22.
Simulate MedVacs to the USNS Mercy
Realistic carrier environment: Crew, vehicles, animated radars, static aircraft.
Static locations are fully compatible with MSFS Multiplayer. Moving locations are not compatible with multiplayer.
Test your piloting skills by landing on a moving ship.
We will add any location upon request
Primarily developed as a companion of Miltech Simulations Osprey MV-22, but compatible with any aircraft (see notes).
Included Vessels:
USS America Landing Helicopter Assault Ship (Spawnable)
USS San Antonio Landing Platform Dock Ship (Hard Deck)
USNS Mercy Hospital Ship (Hard Deck)
USS Lewis B. Puller Expeditionary Mobile Base (Hard Deck)
USS Virginia Nuclear Submarine
STATIC Locations: All 16 Locations are centered around USS America Carrier, and are identified by ICAO Codes:
AG01 San Diego (Former Home Port for USS America)
AG02 Sasebo (Current Home Post for USS America)
AG03 Gulf of Aden
AG04 Persian Gulf
AG05 Key West
AG06 Okinawa
AG07 Caribbean Sea
AG08 New River
AG09 South Mediterranean Sea
AG10 Philippines
AG11 Pascagoula (Sea Trials)
AG12 Portsmouth
AG13 Northern Mediterranean
AG14 Gulf of Bengal
AG15 Hawaii
AG16 Gibraltar Strait
MOVING Locations: All 6 locations are indentified with a POI on the map. The aircraft will spawn in the air, close to the carrier.
Norfolk
Oahu
Pacific Coast
Phillipine Sea
Arabic Sea
Mediterranean
All other ships can be identified with POI points. The complete list of locations, with coordinates is included in the manual. Additionally, we will add any location upon request. Please contact us at contact@miltechsimulations.com to get a custom location placed.
Notes:
Installing the freeware "Top Gun Expansion Pack" from the MSFS Marketplace is required
It is required to turn off Crash Detection to use this Addon
Miltech Simulations MV-22 Not Included. Owning a license of the aircraft is not required, but highly recommended. Some future features may only be available for customers of the MV-22.
LHA Unicom Frequency: 121.00. TACAN frequency (USS America, static ships only): 22X (108.50)
When taxiing the Osprey on the deck, use the "Assisted Taxiing" tool, available in the InGame Panel.
Pause does not work on the deck of a moving ship. Do not pause the Sim while on the deck.
Disclaimer: Although this product resembles its real-world counterparts in many aspects, the product  does not accurately represent (nor intends to accurately represent) the real ships design, features, systems or missions. It is for entertainment and educational purposes only, and shall not be used for real aircraft training or any other professional application.This product is not endorsed, supported by, related to, certified by or in any way connected to the US Air Force, Navy, Marine Corps or any manufacturer or operator. The product has been exclusively inspired by readily available information. This product falls into Fair Use of all applicable copyrighted and trademarked materials, as a transformative work inspired by the real ships.